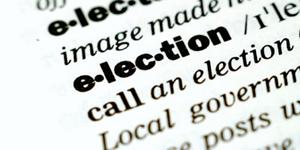 02 Jun

Let the battle commence…

Viewers will be glued to their screens this summer, white-knuckled and on the edge of their seat as the battle to be crowned the one and only ruler of the kingdom comes to a climatic end.

But alas, I am not talking about the return of HBO's Games of Thrones (my money is on Daenerys, not John Snow) – I am referring to the stranger-than-fiction General Election.

For weeks, party leaders have been getting on their soapboxes and podiums, trying to convince the nation that they are the right choice to guide the country to prosperity and nurse us through our post-Brexit hangover.

But whilst political fisticuffs and chest-puffing is something we have witnessed time and time again in the run-up to major votes, there is something distinctly different about this election.

And that is the number of young people intending to turn out to the polls.

For decades, politicians have struggled to engage with the seemingly fancy-free youth of Britain but since the snap election was announced, they have been registering to vote in droves.

Almost 250,000 people aged 18-24 registered on electoral registration deadline day on May 22, bringing the total number of youngsters registering to vote since April 18 to 1.05million.

So, what is driving this somewhat untapped demographic to the ballot box on June 8?

The answer is clever use of social media.

In a world where even a haircut (what was she thinking?!) can sway voters, every meme, gif and Snapchat story makes a difference – a fact Jeremy Corbyn is well aware of.

Labour has no qualms admitting that they want to get more young people voting and are catering to their audience the only way they know how – through their smartphone.

Well-timed tweets and posts that speak to the issues affecting young people today, be it social housing or tuition fees, has seemed to have the desired effect.  Calling out the opposition for not being active on social media channels is another strategic move adopted by the 'for the many, not the few' party.

But the combination of social media and celebrity endorsements is the winning mix.

Actresses, singers, rappers and other hugely influential figures have been telling their fans who they are backing – and urging them to follow suit.

Man-of-the-minute rapper Stormzy has voiced his continued support for Jeremy Corbyn on Twitter, Rag'n'Bone Man's pro-Corbyn interview with Channel 4 has racked up tens of thousands of views on Facebook and fellow Mancunian Maxine Peake even features in a Labour party campaign video.

And let's face it, young people are more likely to listen to their idols that a faceless politician they have nothing in common with.  This 'down with the kids' attitude has catapulted Corbyn's popularity with the 'fresh meat'.

Now don't get me wrong, the Conservatives have their own social media strategy and news feeds are littered with pro-Conservative ads and campaign videos.  But a concentrated effort to get young people on their side is all but missing.  The Conservatives' 'strong and stable' motto could be an indicator that the party is focusing on its core voters – the reliable, older generation.

Unfortunately, we will have to wait another week to find out who is the victor but what we can learn from this now is the power of social media should not be underestimated and that thinking outside the box can open your business up to a whole new audience and endless opportunities.

We know at Cameron Wells that social media is an invaluable tool for businesses, allowing them to spark conversations, engage with their key demographic and raise the company's profile within the industry through targeted campaigning.

So, no matter where your political allegiances lie, make sure to take a leaf from Corbyn's book and think smart when it comes to social media.

And remember – don't forget to vote.